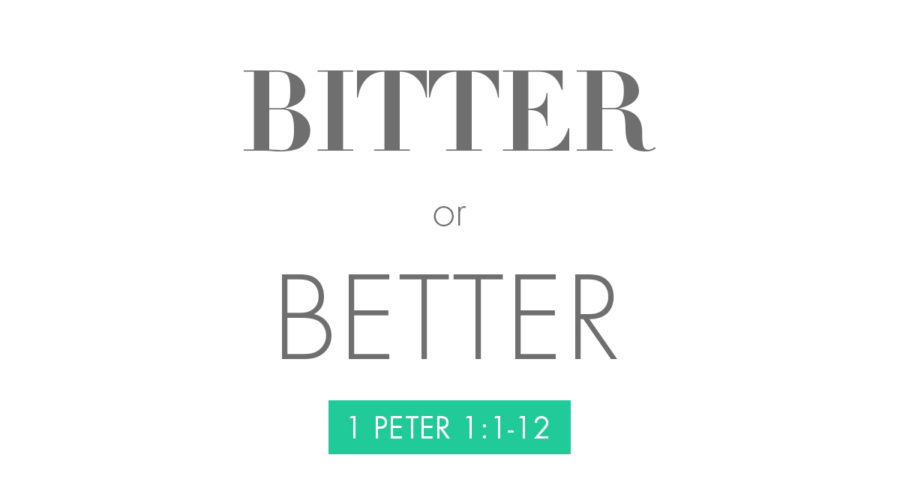 image via pinterest
"Follow peace with all men, and holiness, without which no man shall see the Lord:
Looking diligently lest any man fail of the grace of God; lest any root of bitterness springing up trouble you, and thereby many be defiled"
Hebrews 12:14-15

Bitter vs. Better…. One letter can change a lot, can't it?! ;) In my early teens my family faced a trying situation and I remember my parents telling us one of two things could happen; by this trial we could become bitter or better. They continually encouraged us to, by the strength of the Lord, seek to become better. This exhortation stuck with me over the years and has been used by the Lord over and over again in my life. So, when you find yourself being broken and chastened by the Lord, you will be faced with a choice and it is the choice that has only one letters difference. :) Will you choose to become bitter or will you allow this chastening to make you better? In Heb 12:11 we are told, though the chastening will be uncomfortable and at times down-right-painful ;), we are promised the peaceable fruit of righteousness if we are trained by it.
"Now no chastening for the present seemeth to be joyous, but grievous: nevertheless afterward it yieldeth the peaceable fruit of righteousness unto them which are exercised thereby."
Hebrews 12:11
Let's take it a step farther and look at another scenario. ;) How about when a friend wrongs you or you face rejection from someone you deeply care about? You are hurt, your heart is broken, and you just can't believe it happened to you…. Will you forgive and forget allowing the wrong to make you better or will you meditate on the wrong and allow the root of bitterness to set in? Bitterness is [in the best example] a poison or cancer. It will completely consume you and defile you!
Bitterness: 1. In a figurative sense, extreme enmity, grudge, hatred…..
Stop, bitterness is defined as EXTREME enmity and HATRED!!! If we become bitter toward parents, friends, siblings or anyone else who we feel has wronged us, we are demonstrating hatred toward that person and we see throughout the bible that hatred is equal to murder! 1 John 3:15 says, "Whosoever hateth his brother is a murderer: and ye know that no murderer hath eternal life abiding in him". Hatred is also classifies in Gal 5:19 as a work of the flesh and is in the same group as witchcraft and adultery!!!! As children of God, we are called to put to death the works of the flesh… including hatred[Rom 8:13]. So, what's to be done when you are wronged, hurt by words or actions, or rejected? First stop and pray. Pray that through this difficult situation God would make you Better and that Bitterness would not take root in your heart. It is God's will to refine you through these trying situations and He is faithful to do so[1 Peter1:6-7]! Then do exactly what our Lord commanded us to do in Luke 6:27-28:
"But I say unto you which hear,
LOVE

your enemies, do good to them which hate you,

BLESS

them that curse you, and

PRAY

for them which despitefully use you."
Luke 6:27-28

We are called to love, bless, and pray for those who have wronged us. In John 13:34 we are told to love one another as Christ has loved us. This leaves absolutely no room for bitterness/hatred! And Christ left us a perfect example of this love. He was despised and rejected. Forsaken by His closest earthly companions! Mocked & falsely accused yet He demonstrated the greatest form of love as He laid down His life for sinners… The exact people who did Him wrong… me and you!! Yes, this is a challenge and a challenge you will fail at on your own strength but by the grace of God we can love those who have hurt us[Phil 4:13]. When you are temped to add up the wrongs done to you by someone remember 1 Cor 13:5 where it says LOVE keeps no record of wrong! As I memorized COL 3 a while back a few of my favorite verses in that chapter were 12-14:
"Put on therefore, as the elect of God, holy and beloved, bowels of mercies, kindness, humbleness of mind, meekness, longsuffering; Forbearing one another,
and forgiving one another, if any man have a quarrel against any: even as Christ forgave you, so also do ye

. And above all these things put on LOVE, which is the bond of perfectness."
Col 3:12-14

We must remember that if a brother or sister in Christ has wronged us, we are told in the Word of God as to the actions we are to take. In Matthew 18:15 we are commanded to let the brother or sister in Christ know they have transgressed/hurt/wronged us and give them a chance to seek forgiveness. And we are to completely forgive and forget. :) We cannot store up resentment, allowing the root of bitterness into our hearts. Put on the "bowels of mercy" and love, which is the bond of perfect. As you find yourself in times of chastening or hurt by an action or deed done to you, choose to allow the situation to make you better[by the grace of God] and not bitter! That is my extremely random meditation for today. ;) I pray the Lord uses it to encourage you in some small way. :] Happy Friday y'all!!