"For in Him dwelleth all the fulness of the Godhead bodily. And

ye are complete in Him

, which is the head of all principality and power: in whom also ye are circumcised with the circumcision made without hands, in putting off the body of the sins of the flesh by the circumcision of Christ: buried with Him in baptism, wherein also ye are risen with Him through the faith of the operation of God, who hath raised him from the dead. And you, being dead in your sins and the uncircumcision of your flesh, hath He quickened together with Him, having forgiven you all trespasses; Blotting out the handwriting of ordinances that was against us, which was contrary to us, and took it out of the way,

nailing it to HIS cross

; and having spoiled principalities and powers, He made a shew of them openly, triumphing over them in it."
Colossians 2:9-15

Complete in Thee! No work of mine
May take, dear Lord, the place of Thine;
Thy blood hath pardon bought for me,
And I am now complete in Thee.
Complete in Thee! No more shall sin,
Thy grace hath conquered, reign within;
Thy voice shall bid the tempter flee,
And I shall stand complete in Thee.
Complete in Thee—each want supplied,
And no good thing to me denied;
Since Thou my portion, Lord, wilt be,
I ask no more, complete in Thee.
Dear Savior, when before Thy bar
All tribes and tongues assembled are,
Among Thy chosen will I be,
At Thy right hand, complete in Thee.
Audio clip: Adobe Flash Player (version 9 or above) is required to play this audio clip. Download the latest version here. You also need to have JavaScript enabled in your browser.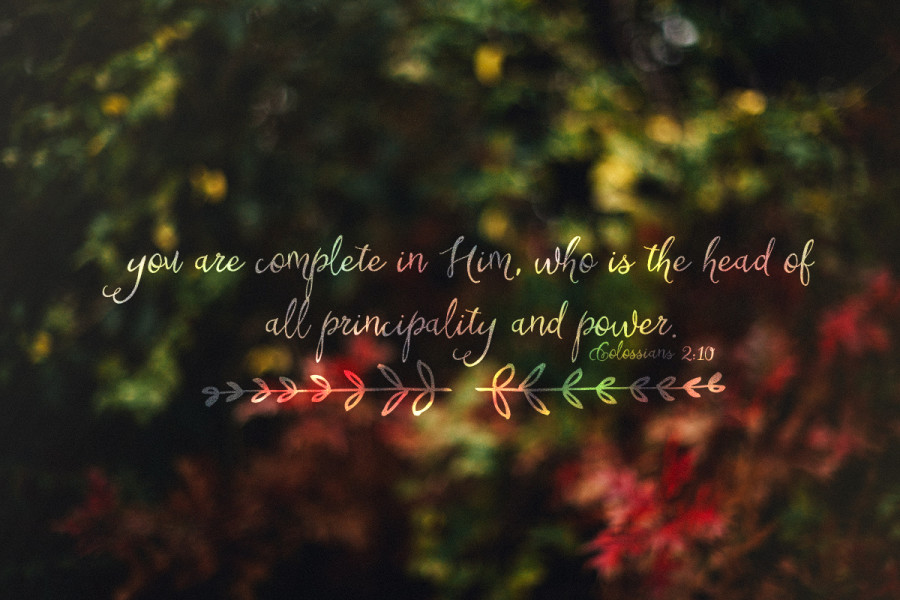 "My flesh and my heart faileth: but God is the strength of my heart, and my portion for ever."
Psalm 73:26