"And ye shall keep my statutes, and do them: I am the LORD which sanctify you."
Leviticus 20:8
»Jehovah Mekoddishkem – The Lord Who Sanctifies You.
Jehovah Mekoddishkem. :) I ran across this name for the Lord a while ago and it has been going through my mind ever since! In the Old Testament the name Jehovah Mekoddishkem occurs 2 times but this name and the declaration of God's sanctification is ever-present in all of scripture! Today I am rejoicing that THE LORD is JEHOVAH MEKODDISHKEM. HE has sanctified His people once and for all[!] by the shed blood of Jesus Christ[Heb 10:10, Heb 13:12, John 17:19, Heb 7:27] and He does sanctify His people daily, promising to prove us and purify us as silver in the fire[Ps 66:10].  I am reminded of Job 23:10, "But he knoweth the way that I take: when he hath tried me, I shall come forth as gold."←WOW, Praise the Lord for that!! Pretty amazing, isn't it? :) So if you find yourself in various trials today I want to encourage you to count it all joy knowing that this is the testing of your faith[1 Peter 1:7-9] and He is sanctifying you!! And remember He promises "My grace is sufficient for thee: for My strength is made perfect in weakness."  :)  →"And we know that all things work together for good to them that love God, to them who are the called according to his purpose.  For whom HE did foreknow, HE also did predestinate to be conformed to the image of HIS Son, that he might be the firstborn among many brethren." Romans 8:28-29!! Happy Saturday!

»Full Definition of SANCTIFY

set apart as or declare holy; consecrate.

free from sin; purify.
"But of Him are ye in Christ Jesus, who of God is made unto us Wisdom, and Righteousness, and Sanctification, and Redemption: That, according as it is written, He that glorieth, let him glory in the Lord."
1 Corinthians 1:30-31

"Sanctify them through thy truth: thy word is truth."
John 17:17

"Every branch in me that beareth not fruit he taketh away: and every branch that beareth fruit, he purgeth it, that it may bring forth more fruit."
John 15:2

"And the very God of peace sanctify you wholly; and I pray God your whole spirit and soul and body be preserved blameless unto the coming of our Lord Jesus Christ.

Faithful is he that calleth you, who also will do it."
1 Thessalonians 5:22-23
 "And they shall be mine, says the LORD of hosts, in that day when I make up my jewels".
Malachi 3:17

"There is an active practice of holiness as we carry out, for the glory of God, the ordinary duties of each day, faithfully fulfilling the responsibilities given us. The passive practice consists in loving acceptance of the unexpected, be it welcome or unwelcome, remembering that we have a wise and sovereign Lord who works in mysterious ways and is never taken by surprise…. Which of these two requirements of holiness (active or passive) is beyond our strength? Remember the words of the apostle Paul, and the conditions (he was in prison) under which he wrote them: "I have learned the secret of being content in any and every situation…. I can do everything through him who gives me strength" (Philippians 4:12,13). This is all that God demands of us in His work of sanctification. He demands it from the high and the low, from the strong and the weak; in a word, from all, always and everywhere. A promise to which I have clung for many years is the prophetic word in Isaiah 50:7, "The Lord God will help me, therefore shall I not be confounded, therefore have I set my face like a flint, and I know that I shall not be ashamed." Perfection does not consist in understanding God's designs but in submitting to them, for "we know that in all things God works for the good of those who love him, who have been called according to his purpose" (Romans 8:28). Sometimes the explanation of his purpose (Romans 8:29) is overlooked: "For those God foreknew he also predestined to be conformed to the likeness of his Son." God works in the soul to make it holy—to make it, finally, like Himself. The whole essence of the spiritual life consists in recognizing the designs of God for us at the present moment."- Elisabeth Elliot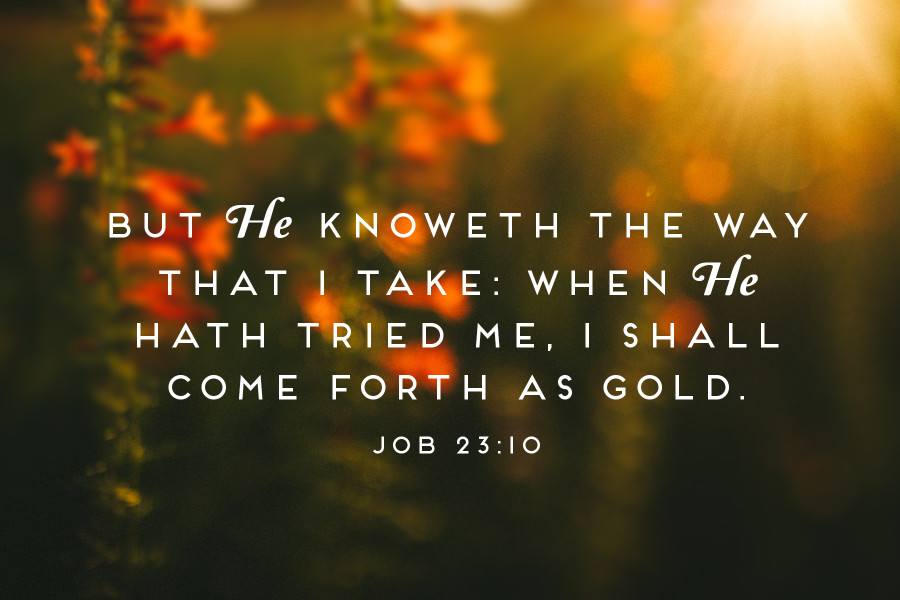 "
In this you greatly rejoice, though now for a little while, if need be, you have been grieved by various trials, 

that the genuineness of your faith, being much more precious than gold that perishes, though it is tested by fire, may be found to praise, honor, and glory at the revelation of Jesus Christ, whom having not seen you love. Though now you do not see Him, yet believing, you rejoice with joy inexpressible and full of glory, receiving the end of your faith—the salvation of your souls."
1 Peter 1:7-9